Illinois Fighting Illini Outdoor Outdoor Fire Pit
Product Description
Support your Fighting Illini with a University of Illinois Fighting Illini fire pit. Alumni, students, and avid fans will love our line of college fire pits. Each pit comes with a poker, a spark screen, and a BBQ grill. These unique fire pits are a must for tailgate parties and grilling before the big game. Show your Illinois Fighting Illini pride by ordering your outdoor fire pit ring today.
Features:
Manufactured from cold-rolled steel for years of durability
Natural rust patina finish ages beautifully over time
Includes spark screen cover, poker, and BBQ grill insert
Portable, design allows fire pit to move easily from patio to beach
Safety ring surrounding fire pit
Sturdy legs are welded in place to prevent pit from wobbling
Comes fully assembled for immediate use
Officially licensed collegiate product
Five-year warranty protects fire pit from rusting or burning
Specifications:
24 steel fire bowl
Weight: 50 lbs
Dimensions: 16 H x 30 W x 30 D
Please Note: Item should be placed on a brick, stone or concrete surface to prevent fire hazards.
Holiday Shipping
Below you'll find the cut-off schedule for our 2016 Christmas season. If you look just below the price above, you'll see a line that reads Availabilty, that will the time to ship.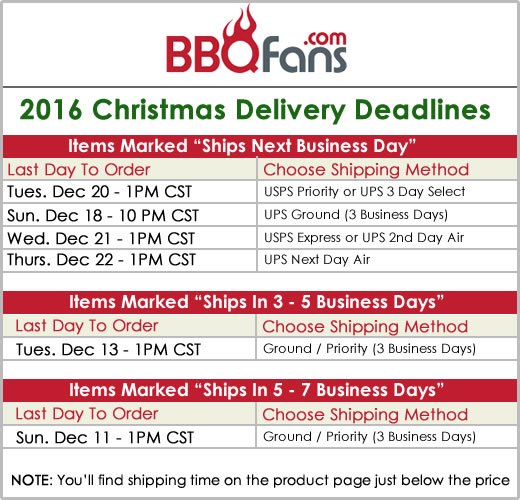 If you have any concerns about when an item will arrive please don't hesitate to contact us.
Holiday Guarantee
We guarantee orders to ship out in enough time to be delivered based on where the item is shipping to and USPS's posted transit times, which you can see here. At that point we're unable to control the transit time of UPS or the USPS based on heavy shipping times or inclimate weather. If either of these occur, we're unable to provide a refund based on our guarantee.